Welcome to the Faith in Texas Virtual Rapid Action Network Training! The Rapid Action Network (RAN) is a system that allows us to act strategically during critical developments when our moral agenda is under attack. RAN is made up of RAN Teams ready to advocate for our faithful agenda at the local, state, and national levels.
Click each image to watch the five videos below and check out the associated content. When you are finished, click the link at the bottom of the page to enroll in the Rapid Action Network.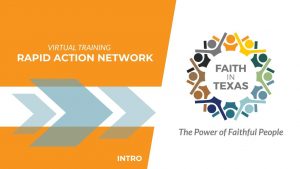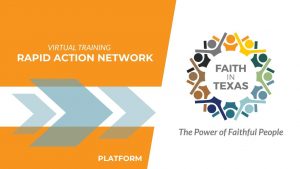 **Please note, we are currently updating our platform and the Rapid Action Network will also issue alerts supporting the struggle for Black lives.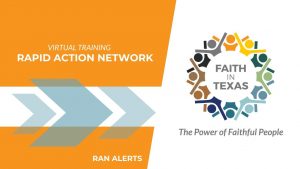 Best practices for communicating with decision-makers
Share if you know anyone who would be impacted by this ordinance or legislation. If so, how would they be affected? If not, why should you care as a person of faith? 

Share your personal story of how this might impact your community or faith

Name that you are a person of faith

Name how the ordinance relates to your faithful moral code
Knowing what to expect when you call
In most cases, you will talk to a staff person who may or may not be familiar with the issue

People on staff usually want to know your name and address

If you're not in the district, be sure to emphasize how the person's decision will impact you