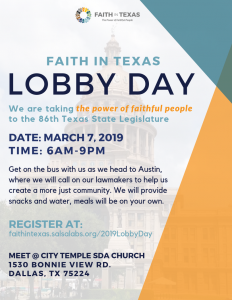 Faith in Texas is heading to Austin, where we will call on our lawmakers to help us create a more just and equitable community. We will spend the day visiting our representatives and senators, sharing with them our faithful platform. Don't worry if you have never participated in a lobby day – you will get all the training you need en-route!
Faith in Texas will provide snacks and water, meals will be on your own. RSVP here: http://bit.ly/FiTXLobbyDay
Faith in Texas 86th Texas Legislative Session Platform
Faith in Texas is a multi-faith, multiracial movement for economic and racial justice. We are more than 35 diverse faith communities, united in our commitment to creating communities where everyone can flourish. Faith in Texas believes that every person is created in the image of God and, therefore, is inherently worthy of dignity, care, and respect. We all benefit when people have equal access to adequate healthcare, housing, employment, and equal treatment in our justice system, regardless of race or income. Further, we are called to treat our documented and undocumented immigrant neighbors with the same love and protection as we would those who are native-born citizens. The prophet Zechariah says, "This is what the Lord Almighty said: 'Administer true justice; show mercy and compassion to one another. Do not oppress the widow or the fatherless, the foreigner or the poor. Do not plot evil against each other.'" (Zechariah 7:9-10). We call on the Texas Legislature to recognize the image of God within all people––especially those who are most vulnerable––and to work together with us for the common good.
Protect Local Control

Local control––the right for our cities to pass ordinances governing our community––should be preserved both broadly and on specific issues. Cities must be allowed to determine for themselves what types of policies are necessary to ensure their community can thrive. Faith in Texas opposes efforts to preempt city control broadly and on the following specific issues:

Guaranteed paid sick leave
Fair chance housing and hiring
Payday lending regulation
Policies separating ICE from local law enforcement efforts
Affordable housing
Bail reform

In the event bills are considered affecting these areas, they should be for the purpose of setting statewide minimum standards while respecting the rights of cities to put in place stricter local standards as they see fit to address the needs of their unique communities.
Faith in Texas supports legislation to ensure the civil rights of all people are respected and to eliminate discrimination on the basis of race, gender, faith, class, or sexual orientation, and the state should continue to establish minimum standards to protect these rights while allowing cities to enhance those standards if needed.

Bail Reform

Cash bail creates "debtors' prisons" that imprison people not because they are a threat to society or a flight risk, but because they are poor. Any bail reform bill should establish a presumption of "no bail" unless the defendant can be shown to be a public safety threat or a flight risk, and should establish thorough procedures for assessing risk that prevent racial or other forms of bias. It should also establish robust accountability measures to ensure judges abide by new standards. Any new measure should not preempt counties and cities from establishing policies that further reduce the use of cash bail.

Immigrant Driver's Licenses

In 2011, the legislature passed a law demanding that you must prove legal status in the U.S. in order to obtain a driver's license. For communities with large immigrant populations, this creates difficulties beyond just being unable to legally drive– it increases insurance rates, creates obstacles to accessing services, and makes it more difficult for immigrants to prove their identity. We support bills that would reinstate the ability for people to get a form of driving permit regardless of their immigration status, which will increase our community safety and ensure everyone is able to move about our community and participate in our local economy.