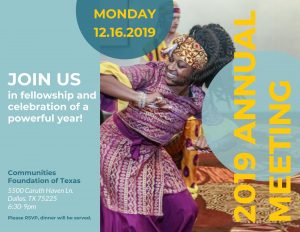 On Monday, December 16, 2019, Faith in Texas will host a dinner and celebration honoring YOU, our most appreciated family of dedicated, hardworking volunteers, leaders, clergy, and donors! We will hear directly from leaders on their moving work, celebrate our collective accomplishments, look ahead to our key focuses and goals for 2020, and, most importantly, relax and fellowship together one last time in this decade!
Thank you for your enduring commitment to justice and to our faithful movement. Kids are welcome and encouraged, we have fun activities planned with Seeds to Stem!
We look forward to celebrating with all of you! Please RSVP, dinner will be served.