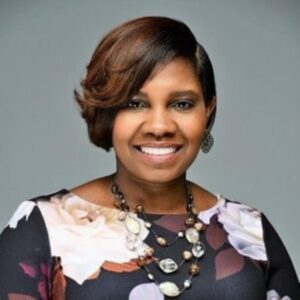 Dear Faith in Texas Family,
The end of the year is a transformational time to reflect on and appreciate all we have accomplished, while looking forward with purpose and expectation at what is yet to manifest.
In that spirit, we are pleased to announce that Akilah S. Wallace has been appointed executive director, effective immediately. Akilah succeeds co-directors Dr. Lydia Bean and Rev. Edwin Robinson.
Akilah brings nearly 20 years of wide-ranging experience in fund development, event planning & promotions, marketing, multicultural media sales and project management. She previously served as the Faith in Texas development director, successfully cultivating and managing a robust funding portfolio. Throughout her career, she has generated more than $5 million in revenue support for a multitude of causes. Her broad philanthropic leadership includes the founding of the first African-American giving circle in Texas, HERitage Giving Fund, at Texas Women's Foundation. In only its first year, the fund has awarded nearly $30,000 in grants to Black women-led organizations, in addition to providing consulting services for small- to-medium-sized community organizations.
After much discussion, deep listening, and thoughtful planning and consideration of a comprehensive search process, we realized that Akilah's broad knowledge, business acumen, mission-driven nature, and track record of success bring a full toolbox that uniquely qualifies her to assume full leadership of this organization. Inspired by our faith that teaches us everything we need is already inside of us, we firmly believe in our own power and strength that we have relentlessly worked to cultivate. This belief underscores our decision that Akilah is the best choice to successfully lead Faith in Texas into the future.
Congratulations, Akilah! Thank you for accepting this call. We look forward to a new chapter, ripe with fresh strategies, clearer focus, renewed energy and rejuvenated faith. We appreciate the grace and support of the staff, clergy, leaders, and national partners who have remained committed to the organization's success and we will continue to stand together as a faithfully unified community of people working side by side to meet our challenges head on. The only way to win is together, and we are grateful to have you all with us on our journey.
If you have any questions, don't hesitate to email Faith in Texas Board President Gordon Martinez at boardpresident@faithintx.org.
However you choose to commemorate this holiday season, we pray it is filled with joy and love. Thank you for your commitment to justice and your continued support of Faith in Texas.
In solidarity,
The Faith in Texas Board of Directors